! Copyright 04/2011 cj1955 --> <! -- http://cj1955.angelfire.com/freedomspirit3.html -->


This page is dedicated to Rosemarie,
a friend who will be greatly missed.

My Spirit

My Spirit is sent to you by the wind.
My soul is sent to you by an eagle.
If one day you feel the wind on your face,
That is my spirit touching you softly,
bringing you my comfort and friendship.
If one day you see an eagle high in the sky,
That is my soul showing you how free you are.

~~ Poem by: Nanc and cj1955~~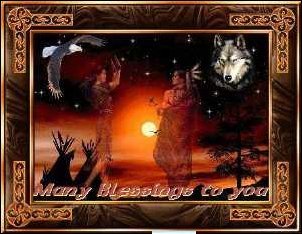 Song: "Amazing Grace"
Native American Flute Music
Rose's Guestbook Sign in Here
Page designed by:

Dedicated to my dear friend Rosemarie
whose spirit flies free
All Rights Reserved: April 2011